The pancreatitis diet is one of the important parts of the treatment of this disease. Without a proper diet, it is not possible to completely cure these patients. It is why we prepared this simple guide for the pancreatitis diet, which could be helpful.
After examination and prescribing medication, the doctor refers these patients to a dietitian for a pancreatitis diet.

Our goal of medical nutrition therapy in pancreatitis patients is to achieve the below objects:
♦ Prevent malnutrition and ensure adequate nutrition in the pancreatitis diet
♦ Maintaining normal blood glucose levels (prevention of hyperglycemia and hypoglycemia)
♦ Prevention of diabetes and kidney disease as well as other diseases caused by pancreatitis
♦ Prevent recurrence of pancreatitis and inflammation of the pancreas

To achieve these goals, that is necessary to make changes in the pancreatitis diet compared to the normal diet to relieve pressure on the pancreas.

The first thing about a pancreatitis diet is that it should be low in fat. Fats need digestive enzymes secreted by the pancreas to be digested and absorbed in the gut. The more fat in the diet, the more activity the pancreas must make to produce digestive enzymes. As the pancreas activity increases, more pressure is put on the pancreas and the inflammation of the pancreas increases.
Studies show that patients with pancreatitis can get up to 30% of their fat intake from MCTs; MCTs do not need pancreatic enzymes to digest and absorb, and therefore do not put too much pressure on the pancreas. Coconut and coconut oil are rich in MCTs. However, note that consuming too many MCTs can cause problems for the body and should not be overused in the pancreatitis diet.

Sugar and simple carbohydrates are other things to look out for in a pancreatitis diet. Because the pancreas produces insulins and glucagon, the two primary hormones that regulate blood sugar, pancreatitis can affect these hormones' secretion and upset blood sugar levels. For this reason, the intake of simple carbohydrates and sugars should be balanced, and you should avoid excessive consumption of things such as chocolate, candy, sweets, etc. in the pancreatitis diet.

Meals in the pancreatitis diet should be small and frequent. Large meals increase the pancreas' pressure to secrete digestive enzymes and cause more inflammation of the pancreas. Eating 6-8 small meals is much better than eating three large meals and reducing the pancreas' pressure.

Adequate eat of fruits and vegetables, especially those with many antioxidants such as berries, red grapes, cherries, etc. is beneficial for you.
Avoid excessive consumption of fruits, vegetables, and high-fiber foods in one meal; these foods, due to their high fiber, reduce foods' absorption and harm digestive enzymes' effectiveness, so you should avoid eating high amounts of them.

Do not forget to drink plenty of water in the pancreatitis diet.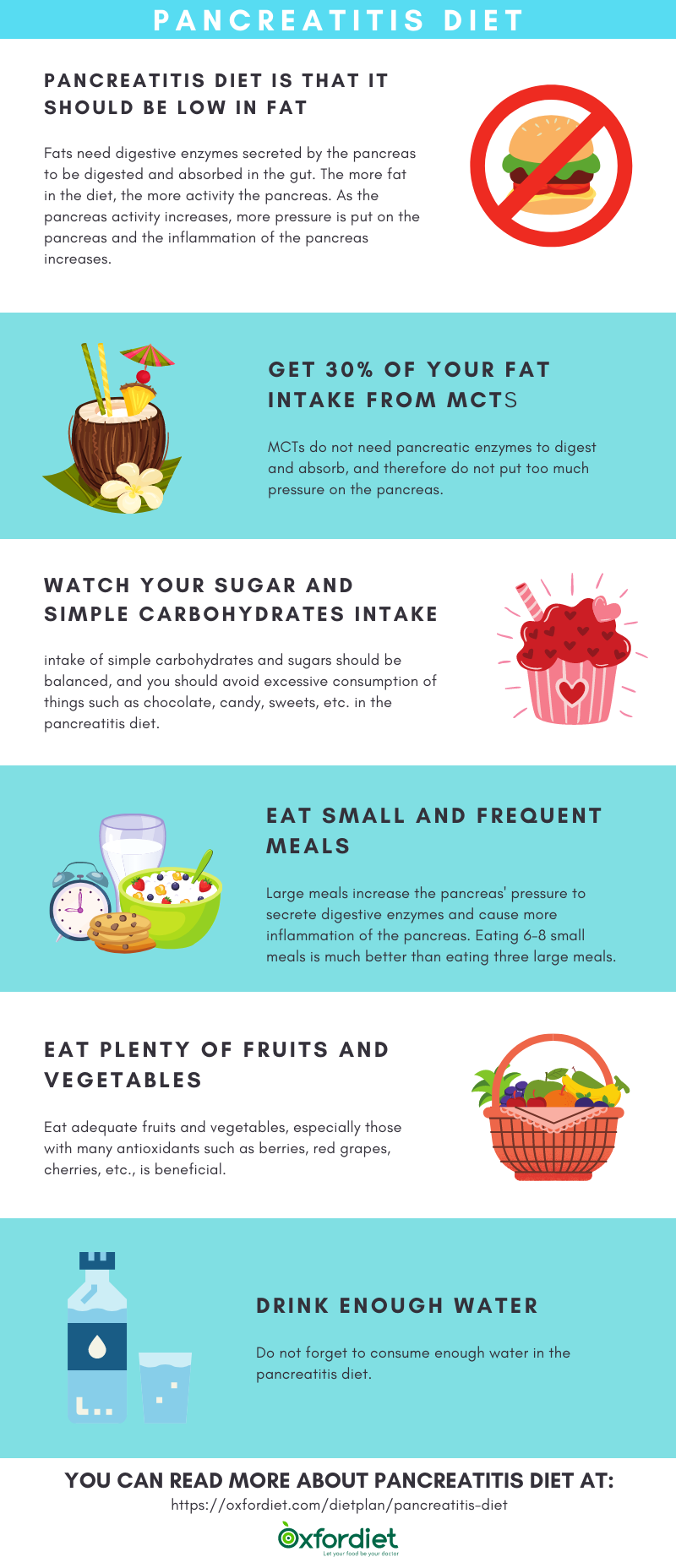 How Much Fat Is Allowed in the Pancreatitis Diet?
The amount of fat you can consume in the pancreatitis diet depends on your physical condition such as height and weight, and other physical conditions. Yet, in general, it can be said that the amount of fat in the diet of these patients should be about 60 grams per day. Of course, the amount of fat in each meal should not be more than about 10 grams to put extreme pressure on the pancreas.
To reduce the amount of fat in your pancreatitis diet, use lean meats such as chicken and fish, eat less red meat and cut off any visible fats and skin before cooking meats. Put the broth and soup in the refrigerator and after a while, remove the fat that is on top of it and then use it. Avoid fried and deep-fried foods, and if you need oil to cook food, spray a small amount on it. In the pancreatitis diet, it is better to eat boiled or steamed foods; sometimes, grilling meat can be a good choice.
Replace high-fat dairy products like cream and high-fat milk with low-fat dairy to reduce the total amount of fat in your diet. Finally, use more vegetable oils such as olive oil instead of animal fats such as butter.

Foods That Should Not Be Used in the Pancreatitis Diet
As mentioned in the pancreatitis diet, some foods should be restricted in these patients' diets due to the lack of secretion of digestive enzymes. Below is a list of foods that should be limited or should not be consumed:

♦ Red meat like pork, beef, etc.

♦ Organs of animals such as liver, kidneys, etc.

♦ Fried foods such as chips, French fries, etc.

♦ Mayonnaise

♦ Butter, cream and margarine

♦ High-fat dairy

♦ Desserts that are made from sugar, such as jelly, candy, etc.

♦ Trans fatty acids that are found in large amounts in fast foods and fried foods.

♦ Processed meats such as sausages, hot dogs, burgers, etc.

Try to eat healthier foods in your pancreatitis diet instead of the foods listed above.

×